---
We're happy to announce that we've upgraded all managed Invoice Ninja servers to version 5.5.70.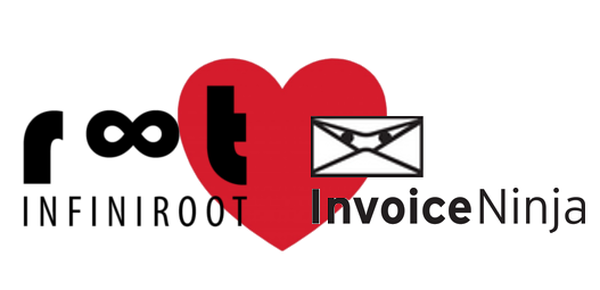 Upgrading only after internal tests

The upgrade to Invoice Ninja v5.5.70 follows after a week of internal quality testing to ensure the upgrade did not break an existing installation and continues to fully work. This includes:
Existing data (invoices, clients, etc) all exist
Swiss QR-Bill template works
New invoices/quotes can be created
PDF previews are working
Invoice e-mails are working
Reminder e-mails are working
... and more
This is a major difference between other Invoice Ninja offerings, where the latest version is automatically installed or where the end-user is responsible for updating the Invoice Ninja software. On our managed Invoice Ninja servers we take care of the technical parts, including software upgrade and make sure the underlying systems are compatible.

PHP Upgrade (8.1)
Certain Invoice Ninja servers which were created before Invoice Ninja v5.4.x was released, still ran on PHP 7.4. Since Invoice Ninja 5.5.x PHP 7.4 is not supported anymore. These managed servers therefore needed to undergo a PHP upgrade, too. Besides PHP 7.4 being end of life, PHP 8.1 also shows a performance increase. Invoice Ninja should therefore be faster, not only because of the upgraded Invoice Ninja version but also because of the upgraded PHP version.
Recent customers of our managed Invoice Ninja servers were already using PHP 8.1 since the beginning of the dedicated server setup.
New "React" User Interface
Besides the default and well-known "Flutter" interface of Invoice Ninja, a new user interface based on "React" has been in the workings for the last few months. When the "React UI" first appeared, the new user interface did not offer all the actions and settings. For example creating a "Recurring Invoice" was not possible. With recent versions, including v5.5.70, the "React UI" has made a significant step forwards and now includes all the necessary actions/parts.
Although the "React UI" has not officially replaced the default "Flutter UI" just yet, it shows a significant speed increase, when navigating through invoices and clients.
To switch to the newer "React UI", click on "Dashboard" in the left navigation, then at the top of the screen (next to the Search field) click on the icon which looks like an atom:

The new React interface looks similar to the default Flutter interface in terms of colours, the new design looks "cleaner". Especially the better performance is felt quickly when going through invoices and customers.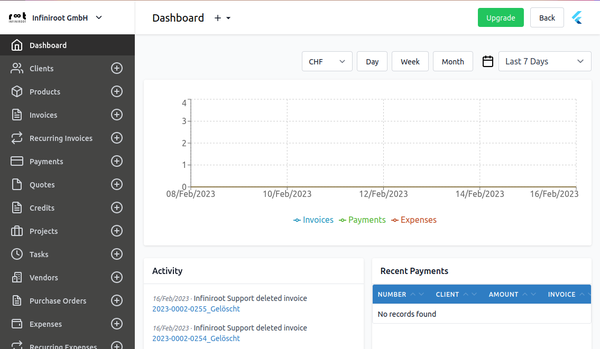 With a click on the blue "Flutter icon" (top right on Dashboard), you can switch back to the default "Flutter" user interface.
When will Invoice Ninja be upgraded next?
Existing Infiniroot customers can stay informed on our Server Status page. Maintenance tasks, such as server maintenance but also software updates on managed servers (such as managed Invoice Ninja) are announced in advance.